Treatment Options for headaches
As the year begins, it is an important time to review our health goals. If you are having tension headaches multiple times a week or suffering from severe Migraine headaches, than you should set up an appointment to consult with a chiropractor who specializes in treating headaches.
WHAT CAUSES HEADACHES?
Headaches can be affected by a variety of things like stress, diet, hydration and lack of sleep. An often overlooked cause of headaches has to do with pressure on the nerves of the neck which regulate blood pressure in the head. We specialize in diagnosing and treating headaches caused by this nerve pressure on the nerves of the neck.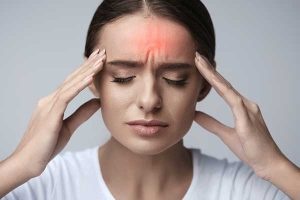 TREATMENT FOR HEADACHES
After a thorough examination, X-rays are performed to help us know which areas of the spine we need to focus on to remove nerve pressure. We create a Chiropractic treatment plan based on our findings which include Chiropractic adjustments to the spine and other therapies to help relieve nerve pressure as quickly as possible. The Chiropractic adjustment aligns the bones of the spine and eliminates nerve pressure and muscle tension. We then focus on strengthening the muscles of the back, shoulders and neck to stabilize the spine and prevent further problems.
REASONS TO VISIT A CHIROPRACTOR WHO SPECIALIZES IN TREATING HEADACHES
Anyone who is tired of having tension headaches and wants to experience more long-term results should visit our office. In our clinic, we do not focus on treating or masking symptoms. Instead, we look for the source of the problem so that our patients can experience the benefits of improved health today and in the future. Many of our patients find that after receiving ongoing treatment, their headaches go away entirely and it is rare that the symptoms return. Our ultimate treatment goal is to help patients find the long-lasting solution they need.
IMPROVE YOUR LIFE
Now is an excellent time to visit Sanders Chiropractic and Wellness and improve your life. Headaches can be debilitating. They can control what you do and how you feel on a daily basis. There is no need to live this way when we can help. It is possible to improve your life by improving your health and stopping the terrible pain that you experience daily or regularly.